About Me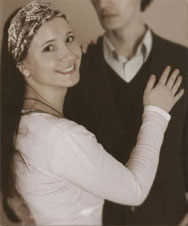 Welcome to my online gallery!
My creative and academic paintings and drawings for a several last years are being collected at this site. You can look through the pieces in the gallery section and order a portrait or painting using the contacts below.
Thank you for visiting and come back soon to see new paintings!
I've graduated the I. Repin St.Petersburg State Academy Institute of Painting, Sculpture and Architecture in 2011.

These days I've been working mainly with human nature. Portraiture has become one of the greatest interests of my life. Comprehending mastery of painting, I'm not only trying to capture likeness in portrait, but to preserve the breath of the model, to reproduce the individuality and character of the person, sitting in front of painter.
As you see, all pieces are performed in a realistic manner. That's because I'm sure the best way to perceive surrounding world is to perceive it as is. It's also the most difficult way. Following in a tradition of many of the old masters, I'm discovering a little wonders of nature for myself and for you watching this site.
In the "Copies" section you may see most recent copies I've made from original paintings by Peter Paul Rubens, Émile Munier, Paul Hermann Wagner and others.